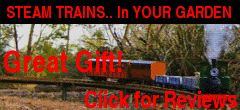 A great new book written by the father of a Narrabri engineer!

184 page hardcover, with colour throughout.
Everything you need to know for building your own live steam locamotive and rolling stock for your garden railway!
To order, click HERE.
Click HERE for a review and diagram samples.
Another short review is HERE.