Narrabri Weather News
New Stations: Namoi Cotton Limited have just commissioned/upgraded several new weather stations which will be of great interest to people in the local community. A weather station located in Wee Waa is now reporting data from their site there, inside the levee. The Merah North station is back online. And a new station is now online and reporting in North Bourke!
Augmented Radar: We recently put together an augmented national radar animation which displays radar, satellite, lightning, pressure, surface winds and the location and strength of the jetstream (which, among many other things indicates the boundary between the warmer air of the north and cooler air of the south).
Android App: We've just released a new Oz Mobile Radar and Satellite app for Android. Please give it a spin if you have an Android device.
Email us
a paragraph about your local event or something otherwise interesting.
Regional Weather Stations
Narrabri Forecast
This table displays multiple weather forecasts. The Australian Digital Forecast Database (ADFD), Operational Consensus Forecast (OCF), and Precis text forecasts are courtesy of the
Bureau of Meteorology
. The Global Forecast System (GFS) weather forecast is obtained from
NOAA NOMADS
.
Local Webcams
Local RADAR and Lightning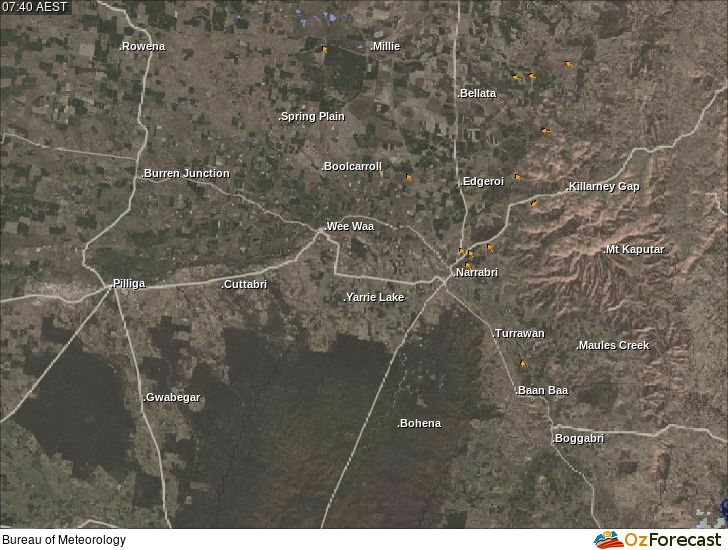 Also see:
NSW RADAR
RADAR data sourced from
Bureau of Meteorology
The
Narrabri Shire Weather Station Network
is a project of Oz Forecast, ABN 61 167 720 152. Please
email us
any questions or suggestions for the site.
This information is automatically generated, is not quality controlled and may not update in a timely manner. You accept all risks and responsibility for losses, damages, costs and other consequences resulting directly or indirectly from using this site and any information or material available from it. To the maximum extent permitted by law, Oz Forecast excludes all liability to any person arising directly or indirectly from using this site and any information or material available from it.