[Back to Narrabri Weather Home Page]
Narrabri Electrical Storm on 2nd December 2006
---

Photo sequence by Chris Allen.
At about 7:50pm on Saturday 2nd December 2006 an intense electrical storm hit Narrabri (NSW, Australia). The storm brought some very welcome rain, with as much as 44mm being recorded. There was also extreme lightning with over 3000 lightning strikes recorded in just 15 minutes. A few hours earlier the Bureau of Meterology had issued a severe thunderstorm warning for an area encompassing Narrabri.

The RADAR loop to the right (courtesy of the Bureau of Meterology) shows the storm. 44mm of rain was recorded at Culgoora, SSE of Wee Waa, which recorded 20mm of rain. Narrabri West registered 25mm. Many other locations recorded <10mm of rain. There was strong (although not severe) wind as the gust front hit, with a 74km/h gust recorded at Narrabri Airport at 8:04pm and 72km/h at Jacks Ck at 7:39.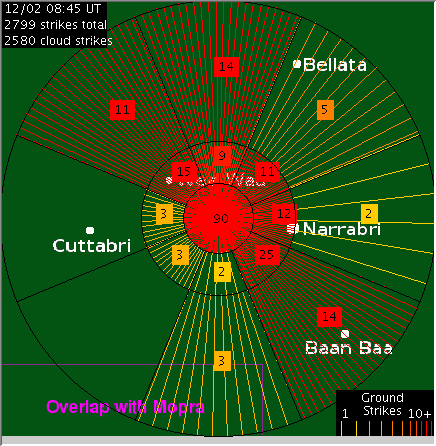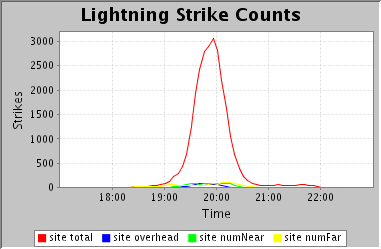 These images (courtesy of the CSIRO Australia Telescope National Facility) demonstrate the high level of electrical activity during the storm. The map to the left shows the distribution of cloud-to-ground strikes over the 15 minutes from 7:30 to 7:45pm. Several households in Narrabri reported electrical equipment being damaged by the lightning.
The graph above shows the total number of lightning strikes (including cloud-to-cloud strikes) during the storm. The lightning detector has a 52km range centred on the Australia Telescope near Culgoora. Eerily, the 3000 strike peak makes this the second most electrically active storm in the two years to date that the lightning detector has been operational - the only storm that beats it happened exactly one year prior, on 2nd December 2005!
---
| | | | |
| --- | --- | --- | --- |
| | The sun looked great peering through the approaching rainfall. Unfortunately we missed the best photo opportunity. The heavy rain to the right of shot would be Culgoora in the process of receiving its 44mm of rain... Photo by David Brodrick. | | Scud cloud. This occurs when the cold, moist outflow (air rushing outwards from the storm) mixes with the warmer inflow air, creating low level clouds that appear to move upwards into the storm. Looking NW from Narrabri just before the storm hit. Photo by David Brodrick. |
| | Scud again. Photo by David Brodrick. | | A great photo of cloud-to-cloud lightning. Photo by Chris Allen. |