[Back to Narrabri Weather Home Page]
Minor Flooding of December 2008
On 28 November 2008 up to 200mm fell around Tamworth and over 100mm was recorded over a fairly large area including Gunnedah. About 50mm had been recorded in Narrabri Shire over the period, however it was the rain upstream which caused the flooding. In Narrabri and Wee Waa any sign of the local rain had dried up by the time the flood was peaking.
Both Tamworth and Gunnedah were declared natural disaster areas following the flooding. Tamworth SES and police responded to many calls, such as rescuing vehicles from flooded causeways. No houses were flooded in Gunnedah but the town was isolated for two days as the highway was cut.
In Narrabri the initial onset of the floowater was very rapid, with the river rising 2m in an hour or two. On the 2nd of December the headline story in The Courier was a sequence of photos by Vince Haire showing the river rise by more than the height of a star picket over just 23 minutes!
---
VIDEOS
Tanya Reid kindly allowed us to publish these movies which she recorded at various locations near Narrabri on the 2nd of December, complete with funny commentary. Click on the thumbnail to download each movie.
Tarriaro bridge at 12pm.
11MB
In town near the railway bridge.
18MB
Fishing hole near Gooseneck.
13MB
---
Tamworth
| | | | |
| --- | --- | --- | --- |
| | Photo showing the swollen Peel River just downstream of the Tamworth CBD on the 29th of November, the morning after the heavy deluge when the river was still near its peak. Photo by Brett Lennon. | | Just upstream of the Tamworth CBD, showing one of the main bridges underwater. These photos are taken from up on the lookout. Photo by Brett Lennon. |
---
Boggabri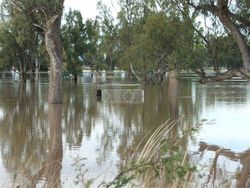 Photo on the flood plains between Boggabri and Baan Baa showing a half submerged gate. Photo by Karina Munting.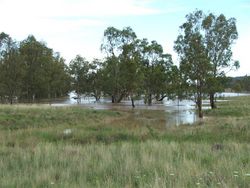 Another photo near Boggabri, showing river red gums enjoying a long overdue drink. Photo by Karina Munting.
---
Narrabri
| | | | |
| --- | --- | --- | --- |
| | Violet St bridge on the 1st of December. The river held at about this level for about a day and a half before starting to rise further. Photo by Greg Nash. | | Violet St bridge on the 2nd of December, as the river was rising again. Photo by Tanya Reid. |
| | Violet St bridge on the 3rd of December at the peak of the flood. Photo by David Brodrick. | | The river behind the Crossing Theatre in Narrabri. Photo by Tanya Reid. |
| | Tarriaro bridge on the 2nd of December. Notice how much water is flowing down the right hand channel which is usually has no flow. Photo by Tanya Reid. | | Looking upstream from Tarriaro bridge. Photo by Tanya Reid. |
| | The big fishing hole near Gooseneck at 12pm on the 2nd of December. Photo by Tanya Reid. | | The big fishing hole near Gooseneck at 4pm on the 2nd of December. The river is now Very Full! Photo by Tanya Reid. |
| | The road from Tarriaro to Turrawan and Harparary was cut in several places. It was closed on the 2nd and 3rd. Photo by Tanya Reid. | | Looking towards the big railway bridge in Narrabri on the 2nd of December. Photo by Tanya Reid. |
| | At last! On the 3rd of December the Namoi River channel through Narrabri developed a small flow. Photo by David Brodrick. | | Looking upstream in the Namoi River channel. Photo by David Brodrick. |