Narrabri Weather News
Wee Waa Webcams: With support from the great people at Namoi Cotton we now have two webcams with amazing views running in Wee Waa. One camera looks west, to give you the best possible perspective of approaching storms. The other camera looks east showing the weather directly over Wee Waa, with a clear view all the way to the Nandewar Ranges!
Fire Ban: Today (Saturday) is a total fire ban in our area. More info. The RFS website changed which broke the fire danger warnings we have traditionally included in an automated fashion. We will try to resurrect it one day..
Harvest Time: The headers have been running flat out and yields are reported to be better than expected, at least in some areas. Very welcome news given the punishing season. Drew Penberthy from PENAGCON sent through this cool timelapse movie (7MB) showing some of his Lancer wheat over the course of the season. The weather has been perfect for harvest but we have the chance of some storms and showers on Friday and Saturday.
Charity Concert: Harmony Inc., Narrabri's award-winning community choir is presenting their Annual Charity Concert, "The Best Of Broadway" at the Narrabri High School Hall, Saturday November 8, 7.30 pm.
Email us a paragraph about your local event or something otherwise interesting.
Avg Temperature: 25.1 C


Δ Yesterday: -0.9 C

Avg Humidity: 61 %
Wind Vector: 19.1 km/h NNE
Max Rainfall: 10.8 mm
Regional Weather Stations
Narrabri Forecast
This table displays multiple weather forecasts. The Australian Digital Forecast Database (ADFD), Operational Consensus Forecast (OCF), and Precis text forecasts are courtesy of the
Bureau of Meteorology
. The Global Forecast System (GFS) weather forecast is obtained from
NOAA NOMADS
.
Local Webcams
Local RADAR and Lightning
Click to animate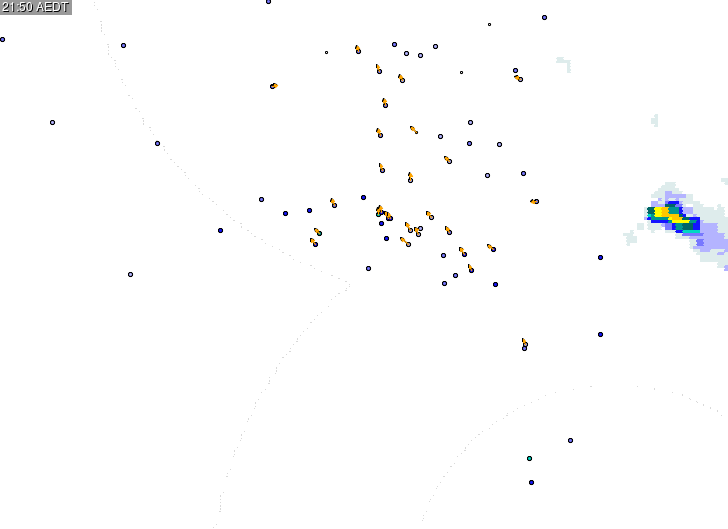 Also see:
NSW RADAR
RADAR data sourced from
Bureau of Meteorology