Narrabri Weather News
El Nino Trigger: A new research paper published in the scientific journal Nature suggests that El Nino and La Nina phenomena, which have a major influence on the Australian rainfall and climate, can be predicted up to 17 months in advance by monitoring sea surface temperatures in a large body of warm water, called the Atlantic Warm Pool - comprising the Gulf of Mexico, the Caribbean Sea, and the western tropical North Atlantic. The team found an unusual rise of sea surface temperature in the Atlantic Warm Pool in mid-summer to early autumn leads to the formation of a northerly wind over the North Pacific. This generates cold sea surface temperatures and high sea level pressure in the subtropical north-eastern Pacific that persist through the subsequent winter and spring and the cold sea surface temperature extends toward the equator. Together, these events lead to a coupling between sea surface temperature and surface winds in the equatorial Pacific in the spring, triggering La Nina. Conversely, falling sea surface temperatures in the Atlantic Warm Pool ultimately trigger El Nino. Both Pacific events are triggered 17 months after the initial changes in Atlantic Warm Pool sea surface temperatures.
Email us
a paragraph about your local event or something otherwise interesting.
Regional Weather Stations
Narrabri Forecast
This table displays multiple weather forecasts. The Australian Digital Forecast Database (ADFD), Operational Consensus Forecast (OCF), and Precis text forecasts are courtesy of the
Bureau of Meteorology
. The Global Forecast System (GFS) weather forecast is obtained from
NOAA NOMADS
.
Local Webcams
Local RADAR and Lightning
Click to animate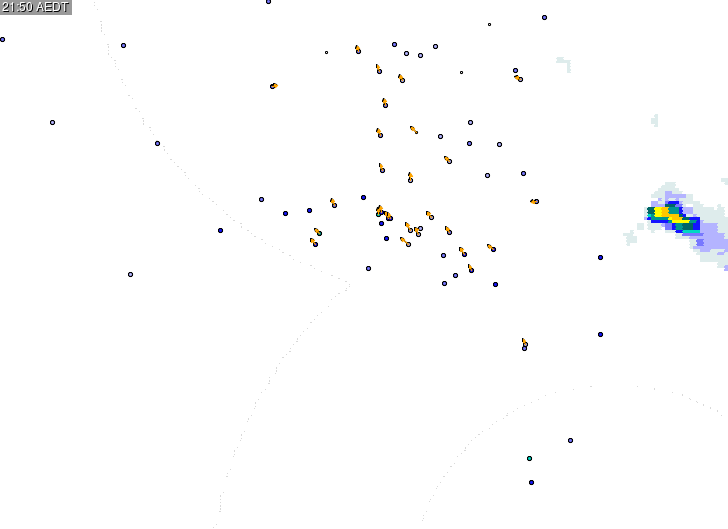 Also see:
NSW RADAR
RADAR data sourced from
Bureau of Meteorology
The
Narrabri Shire Weather Station Network
is a project of Oz Forecast, ABN 61 167 720 152. Please
email us
any questions or suggestions for the site.
This information is automatically generated, is not quality controlled and may not update in a timely manner. You accept all risks and responsibility for losses, damages, costs and other consequences resulting directly or indirectly from using this site and any information or material available from it. To the maximum extent permitted by law, Oz Forecast excludes all liability to any person arising directly or indirectly from using this site and any information or material available from it.