Narrabri Weather News
El Nino: Here are one and two articles from the NOAA discussing the state of the Pacific. In summary it seems that the waters in the eastern Pacific are much warmer than normal, as per an El Nino event, but the waters north of Australia have not cooled down as they would for a typical El Nino. This has so far prevented the atmosphere from responding in the ways expected of an El Nino.
Machinery Day: The Eulah Creek Machinery Day will be held THIS SUNDAY the 3rd of August with working displays of engines and tractors, working draught horses singles and teams, vintage vehicles, bikes and street rods, historical displays and sheep shearing, crafts and children's entertainment. More information (PDF).
Rosetta Rendezvous: After a ten year journey, the European Rosetta spacecraft will arrive at Comet 67P/Churyumov-Gerasimenko this Wednesday the 6th of August. Here is the mission blog and ESA TV will cover the orbital insertion live from 4:45pm our time on Wednesday afternoon.
July Climate:

July is our coldest month - the long term average maximum temperature is 18.0 degrees. On the 3rd of July 1984 the maximum only got to 7.8 degrees - our lowest ever recorded maximum.
The average minimum is just 3.7 degrees. The coldest July day ever recorded was -4.4 degrees on the 12th of July 1965.
On average there are 5.4 rainy days in July, with a median monthly rainfall of 40.8mm. 2011 recorded 0.0mm in July, while 1984 had 159.6mm.


Email us a paragraph about your local event or something otherwise interesting.
Avg Temperature: 9.6 C


Δ Yesterday: -4.2 C

Avg Humidity: 46 %
Wind Vector: 3.4 km/h SW
Max Rainfall: 0.0 mm
Regional Weather Stations
Narrabri Forecast
This table displays multiple weather forecasts. The Australian Digital Forecast Database (ADFD), Operational Consensus Forecast (OCF), and Precis text forecasts are courtesy of the
Bureau of Meteorology
. The Global Forecast System (GFS) weather forecast is obtained from
NOAA NOMADS
.
Local Webcams
Local RADAR and Lightning
Click to animate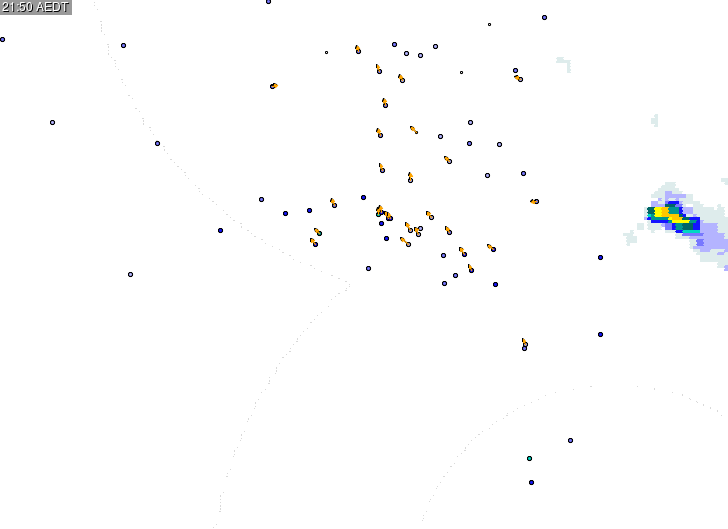 Also see:
NSW RADAR
RADAR data sourced from
Bureau of Meteorology